Get your merch for the con that's been cancelled before it was announced! And best, we're skimmin our well-begotten gains to donate to charity. So far, we've given over $5000 in filthy lucre to good causes like Doctors Without Borders, The Chicago Food Depository, The Trevor Project, the NAACP Legal Defense Fund, and No Kid Hungry. As long as you hoopy froods keep buying merch, we'll keep doing good!
All of the Concellation 2020 designs are still available, and we now have a new logo for 2021. Of course, there are the special designs we've made when bored, as well as the Alignments and Conversation Starters Collections. And free shipping in the US for pin, coin and patch orders over $15!
And, of course, pins and challenge coins! Show that you were a part of the best convention you've never been to!
Concellation 2021 Patch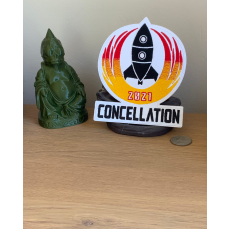 Dimensions:
4.00in x 3.25in x 0.25in
The official Concellation 2021 Logo patch! This quality embroidered patch has an iron-on backing but can also be sewn if that's your jam. Four inches in length, this is a full-sized patch ready to adorn your convention attire.