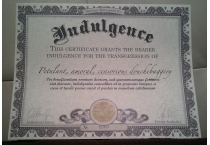 Discount Indulgence
Indulge Yourself!
Pretty straight-forward - you name the transgression, we generate the indulgence and the certificate is sent on its way!
$9.95
Configure
Would you like a blank indulgence, suitable for filling out yourself when the mood strikes? We can do that, if you wish. We trust you!
$9.95
Add To Cart
With this option, we will send it to the recipient of your choice without your name involved. You specify what they did wrong, and we'll make sure they get a certificate for their sin!
$9.95
Configure